Buying a camping stove
Buying a camping stove can be a tricky business. You want to make sure you get the right one for you. If you are hiking you need to get something that is compact and will carry easily. A trangia might be a good idea if you need something small, or if you are only cooking for yourself. A Trangia cimbines the methanol burner with all of the equipment that you need to do your cooking. If you are travelling by car then you can go fo a setup as large as you like, right up to a full kitchen set (if it takes your fancy!). Some camping stoves also come with wind protectors, which can be very useful if you're camping outside. Camping stoves run on a variety of fuels and the type of fuel you will be using will play an important factor in your decision.
The most popular fuel is butan or propane gas or a propane/butane mix. These come in cartridges or refillable cylinder. This type of fuel is predictable and stable, lights easily and performs well, and is controllable in terms of the level of heat you require. The cartridges or cylinders attach directly to the stove. Resealable cartridges are good as they can be removed from the stove, so there is no chance of the gas being switched on accidentally. These smaller stoves are more suited to be sed with smaller pans and cookware sets and cannot comfortably accommodate larger pans.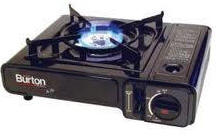 Larger stoves often use cylinders attached with a gas hose and regulator. This aren't carried easily so are only suitable if you are travelling by car. These stoves often include a lid and side wind shield. If you are camping in low temperatures, propane is more suitable than butane as it freezes at lower temperatures.
Pressure stoves run on pressurised petroleum. They can get very hot and are very fuel efficient. These types of cookers come in a range of sizes, from small compact burners suitable for backpackers to double burners suitable for families.
Methylated spirit stoves run on meths which, as a liquid, doesn't need to be pressurized. It is instant lighting and there is no need for preheating. Meths produces an almost colourless flams so care needs to be taken in the daytime. meths only really gives about half the heat of the alternatives so isn't the most efficient. The most common types of meths burners is the trangia range which are simple to use, compact lightweight and cost efficient.
You might want to consider the price of the gas refills or methelated spirits when making your purchase. And don't forget to take spares! There's nothing worse than having the food to cook with no means to cook it.
If you have small children then safety may be an issue. You might want something that is stable and safe when there are footballs flying about! so you can go for something with a stand
About the Author: Campingnow have great deals on camping equipment from the best online shops in the UK, along with guides and advice for campers.