Buying a Camping Tent
Things To Consider Before You Purchase A Family Camping Tent

Author: Jana Puckett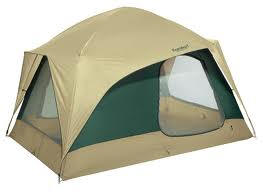 Before you purchase a family camping tent, answer these basic questions on how you will be using the tent and what type of camping you will be doing. By determining what type of camping tent is right for you before you buy, you will save money, time and have the perfect tent for your camping experience.
What Type Of Camping Tent Do You Need?
This all comes down to one question. What type of camping do you plan on? If you want to experience the thrills of hiking through the back country, a light weight camping tent for two is the best choice for you. If you are family camping in one location at a camp site, then you might want to opt for some creature comforts of home! Such as room camping tents and large family camping tents that will not only comfortably sleep your entire family but will hold all their personal gear as well.
How many people will be using the tent? And for what purposes?
As this article is geared toward family camping, we'll stay with the large family style camping tents. First decide on how you will be using your tent. Are you just going to sleep in it? Are you also storing personal items (clothes, entertainment, toiletries) inside? Will you be using the tent to store other camping gear? These are all important to consider before you purchase a camping tent, because when a manufacturer states that a tent sleeps four people, what they really mean to say is – this tent will only fit four normal sized sleeping bags with room for little else! So if your family of four plans to use the tent for more than just sleep, then it's wise to buy a large family camping tent that sleeps six and quite possibly a tent with more than one room (for those who are planning on camping with pre-teen and/or teenage kids – you know what I mean!).
What Kind Of Camper Are You? And Why This Affects The Type Of Camping Tent You Buy
Again ask yourself what kind of camping you are planning – gentle backpacking, extreme wilderness trekking or family campsite? Typically, if you are a family campsite camper, the amount of time or complexity of setting up your tent is less critical. Obviously, the simpler the better, but for family camping the ease of setting up a large or multiple room family camping tent is not as important of a feature. That is unless you get to your campsite after dusk, then you had better have packed your camping lanterns last! These days most large family camping tents can easily be set up in about 15-20 minutes – if you have read the set-up instructions and have all the guy lines, stakes and tarps handy and ready to use.
What Seasons And Typical Weather Are Most Likely To Encounter?
Obviously spring, summer and fall are the seasons we camp during the most. Yet depending on the geographic area, ask yourself how often could you experience more extreme weather? We all know that sudden rain storms and high winds do happen, and if you typically camp in areas where the possibility of extreme weather can happen, you want to be prepared. Every tent is water resistant to some degree, yet if you camp in an area where frequent rain storms occur, you may want to purchase a tent specifically designed to repel rain. The same thing can be said for high winds, scorching sun and heat and the camping tents that are designed for those types of camping situations, such as stronger poles, sun screens and lots of vents. Buy the tent with the proper features and your camping experience will be that much more wonderful!
Tent Design And Why It Matters
Camping tents come in all sorts of shapes, sizes, colors and formations. Choosing the best one for you again depends on what style of camper you are, where you typically camp and what you will be using your tent for. When purchasing a tent for family camping, remember you only have to set it up once and take it down once. So during your camping experience your tent should be comfortable for everyone to use and function for all activities. Here are several considerations: Height of tent – if you're 6'4" and you purchase a dome tent that is 5'6" high at the tallest point, be prepared for lots of stooping, otherwise you may want to purchase a family style camping tent with enough height clearance for the tallest member of the family! Weather – if you camp in a constantly windy area (like some beaches) a dome style of tent would be better as it's specifically designed to buffer high and constant winds. Humidity – camping in high humidity areas can bring lots of wonderful insects to your camping experience! You may want to purchase a tent with lots of screened vents and possibly a screened eating canopy as well. Personally, I'm not a bug-in-my-food kind of camper!
A Final Note On Family Camping Tents
Before you embark on your fabulous family camping vacation, set up your tent! Make sure all the guy lines are intact and that you have enough stakes (plus extra just in case) to set up your tent. Also clean the inside and outside of your tent in accordance with the manufacturer's directions before you repack, you'll be thankful you did when you get to your campsite!
About the Author: Jana Puckett free lance writer & marketing consultant to industries including building products, camping, karate franchisees & pet grooming. Ms. Puckett is also owner of www.KazooCamping.com , a website devoted to quality family camping gear. Ms. Puckett lives in north Georgia and can be reached at dreamlivecamp@kazoocamping.com .