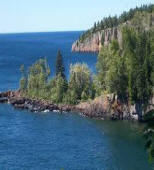 North of Superior Region - Ontario Camping & Campgrounds
Campgrounds near Lake Sup[erior Nakina, Nipigon, Manitouwadge, Longlac, Jellicoe, Geraldton, Orient Bay, Marathon, Thunder Bay, Armstrong, Upsula, and Allanwater areas.
View nature's power along the rocky, rugged coastline of Lake Superior, one of the world's largest lakes. Discover deep chasms, tumbling waterfalls and immense granite cliffs spectacularly carved from the Canadian Shield by the last of the glaciers. Explore lakes, rivers and forests where roads are few and adventures are boundless. Match wits against some of North America's toughest game fish in this fishrman's paradise or paddle the famous routes of fur trading Voyageurs. Plan your camping holiday along Lake Superior's Northern Shore where there's a new view to astound you around every corner in the landscape.
Wild Goose Lake Resort (Geraldton)
We are one of Northern Ontario best kept secrets, offering holidays for families, fishermen and hunters. We have 12 housekeeping cottages, RV camping as well as tenting sites. We are open from the May long weekend with RV lots closing mid-September while cottages remain open until the end of October.. The main shower house has 2 toilets and 2 shower stalls with hot & cold running water in a men's side and woman's side. Ideal for those RV camping or tenting but open to all our guests.
Thunderbird Resort (Upsula)
If you like to enjoy the great Canadian outdoors in a motor home, trailer or tent, I can provide over 10 acres of campground. We have individual campsites as well as open areas so groups can situate themselves. We have plenty of firewood and picnic tables for your convenience. A central shower with flush toilets are provided for all campers..
Neys Lunch & Campground ( Marathon )
Neys Lunch & Campground has been a staple sight along Hwy 17 for many years. It's located 20km west of Marathon and boasts of many services such as water, sewer, electricity and internet hook ups. Whether you need gas, a place to camp for the night, something to eat or refreshments for the campfire, you'll find it all at Neys Lunch & Campground. Travelers and snowmobilers alike will be glad to know that Neys Lunch & Campground remains open all year long!